Frequently Asked Questions
Click on the question to jump to its answer:
---
---
Much information is available on the website, including a listing of the Board, walk calendar, registration forms, reunion group information forms, reunion group listings (Men's, Women's, Mixed), monthly newsletter, etc.
---
Board Page" for this information.
---
Where are Hi Sky Walks and Chrysalis Flights conducted?
In 2014, our walks for the Hi Sky Emmaus Community will be conducted at Circle 6 Baptist Ranch, 6 miles north of Stanton, Texas on Highway 137 (on the right as you drive north). Here is a locator map: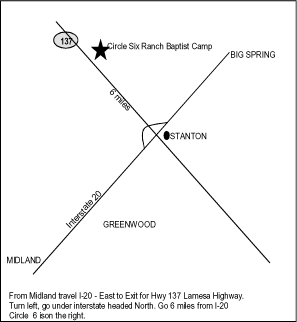 In 2014, our Chrysalis flights for the Hi Sky Emmaus Community will be conducted at Howard College in Big Spring, TX.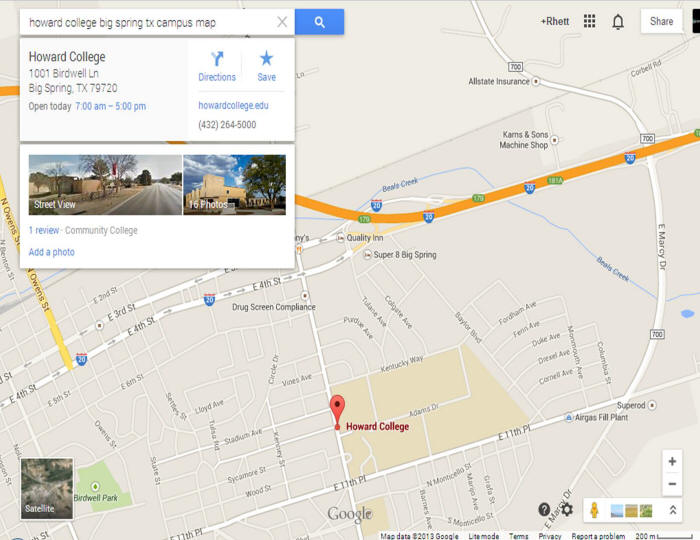 ---
When are Hi Sky Walks and Chrysalis Flights conducted?
On the hiskyemmaus.com website, you can click on the Calendar tab at the top of the home page to check the Walk and Chrysalis dates for the current year. The walks for 2014 are as follows:
Men's Walk # 213 - February 20-23, 2014
Women's Walk # 214 - March 20-23, 2014
Men's Walk # 215 - April 10-13, 2014
Women's Walk # 216 - June 12-15, 2014
Boy's Flight # 52 - TBA
Girl's Chrysalis # 53 - TBA
Men's Walk # 217 - September 18-21, 2014
Women's Walk # 218 - October 23-26, 2014
Please note that applications for pilgrims to attend all walks and flights are due on the Thursday, one week prior to the walk/flight starting.
---
What time does Candlelight service begin?
The service begins at Saturday evening for every walk. A worship service, including communion, is conducted with the community before the pilgrims come to the tabernacle.
---
What time does the closing ceremony begin?
The pilgrims arrive in the tabernacle at Sunday afternoon, and the closing service begins when all are seated. It is best to arrive early enough to welcome (clap in) the pilgrims as they arrive.
---
Who can sponsor a pilgrim on a walk?
Anyone who has previously attended a Walk or a Chrysalis may sponsor someone else to attend a walk or Chrysalis. The registration forms are located to the left under "Forms".
---
I want to attend a walk, but need a sponsor.
Anyone interested in attending a Walk or Chrysalis who does not already have someone to sponsor them may contact any Board member (contact information listed on the website or above). We will put you in touch with someone to sponsor you.
---
As a sponsor, how will I know my pilgrim is officially on a walk?
Upon receiving and confirming your registration, the Registrar will ensure your pilgrim's name is emailed to communications@hiskyemmaus.com so that it is posted on the website under the walk in which your pilgrim is registed to attend. This can be found by going to the Calendar page and then clicking on the specific walk. Starting about six-weeks prior to the walk, the Registrar will send you a letter acknowledging that your pilgrim is on the walk, with additional information for you as a sponsor. If there is any problem with your pilgrim's registration, the Registrar will also contact you.
---
What is the proper attire for a walk or flight?
Dress for the weekend is entirely casual – jeans, slacks, sweats, shorts, etc. Just be comfortable so you can relax and enjoy the activities. For a Chrysalis, you should bring one change of clothes that is a little more dressy for the Saturday evening dinner.
---
What items to the pilgrims need to bring with them to the walk?
Bring your own toiletry items, towels and bedding (sheets and blankets or sleeping bag and pillow). Each room has two twin beds and a queen sized bed.
There will be opportunity to purchase books during the WEEKEND. You may want to bring cash or a check if you decide to purchase some of them.
---
How can I get involved in the Hi Sky Emmaus Community after my walk?
To become a team member on any Emmaus walk or Chrysalis flight (Music Team, Conference Room Team, Servant/Outside Team), you can contact any board member (listed under the "Board" tab on the website, or as listed above under "Who do I contact"), particularly members of the Team Selection Committee, and let them know you are interested in serving. To assist in any committee area, you can contact the Committee Chairperson.
---
How do I get my reunion group and members listed on the website?
Click on the "Reunion Groups" link and you will see listings for Men's, Women's, and Mixed Reunion Groups. Below those categories, there is a form provided which you may complete and return to communications@hiskyemmaus.com, to get your reunion group listed. If there are changes in your reunion group membership, or if your reunion group is no longer active, that information should be sent to communications@hiskyemmaus.com so that we can keep the listing as current as possible.
---
How do I sign up on the Prayer Vigil?
A Prayer Vigil poster is prepared for each walk. You can sign up for a time slot on each vigil by either
of the following methods:
The new community database allows for electronic signup on the Prayer Vigil. Once you have registered on the database as a community member, you will be given a password and can find the Prayer Vigil under the Community Tab where you can click on a particular walk.
The Prayer Vigil for upcoming walks or flights will be circulated on a clipboard at each monthly Community meeting. You may also contact the Logistics Coordinator for the specific Walk for which you are interested in participating in the Vigil to request an open time to pray for that Walk.
---
How much gift agape is needed for each walk?
Traditionally, each item of gift agape is given to both the pilgrims and to the team members. If a walk is full, there are 36 pilgrims. There are usually between 30-34 team members, so the best thing to do is always send 72 pieces of each item of gift agape.
Any labels on the gifts should not include individual names, but the name of your reunion group or church works fine. Remember, these are to be anonymous gifts of love to these pilgrims and servants.
Any leftover items will be brought to the next two Community meetings and you can retrieve those to be added to your contributions for subsequent walks. If they are not picked up after the second Community meeting, they are added to other leftovers and given around Christmastime to the children at High Sky Children's Ranch.
---
Where do I deliver gift and food agape that I volunteer for walks?
Again, on the website, under the Calendar tab for each walk, the gift and food agape drop-off locations will be listed prior to each walk, as well as contact information for the agape leaders on each walk.
---
When and where are Community meetings held?
The 2014 Community meetings are held at on the Fourth Tuesday of each month at Wilshire Park Baptist Church, 801 S Bentwood Dr., Midland, Texas, with Babe Chicks meeting conducted at the same location beginning at The November and December meetings are combined. All Community meeting dates are listed on the homepage under upcoming events.

Each year, the Community meetings are moved to a different church.
---
How do I receive reminders of the monthly Community meetings?
Community reminders are no longer sent via US Mail. To receive email reminders and other notifications, please make sure your email address is current in the Hi Sky Emmaus Database and make sure under your personal options you check the box for "Receive Email."